Plustek eScan A150

1 reviews
Scans up to A4
20 pages per minute
Colour, greyscale, black and white
Duplex (scans both sides)
40 images per minute
50 sheet capacity
Connects via
Only £339.00 + VAT
Delivery £10.00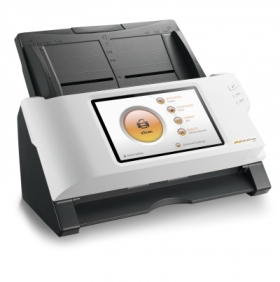 eScan A150 videos
1. Darren Beaumont, C & A Building Plastics
The scanner is OK it works well and is pretty quick but thats about it.
The down side is the pc software, you have to be an admin to install it and then it sets up file storage to the admin account and not the PC user. You have to upgrade all your users to admins prior to login on and installing the software.
Similar issue with network storage option, you have to create network users for each folder you cant just create network folders for different users on a shared drive
As a scanner it is good, software and usability is poor not value for money
Write a review
eScan A150 description
Setup Easily
eScan works as easy as an appliance. End users can just plug the network cable and turn it on to start. There is no need for IT staff setup and training. Just respond to the three easy intuitive steps on our large seven inch LCD screen and you are on your way.
Scan
A Big eScan button is always waiting for your touch. If you have other requirements simply change the scan setting; itís done!
View
eScan allows you to validate the scanned images in the thumbnail mode. It also allows you to review each individual page in full page mode to crop, rotate, or even redact the page. If you are happy with the scanned thumbnail image, you are ready to deliver!
Save
eScan is loaded with 9 destinations to choose from: USB drive, network folder, mobile, eMail address, or variety of cloud (Dropbox, Google Drive, Evernote, Box, SharePoint or FTP). Once a destination is selected just enter your credentials, cheers!
Sending to multiple destinations
From time to time you may want to send same document to different destinations. The eScan allows you to send the same scanned document over and over again.
Back to top