Panasonic KV-S1046C

2 reviews
Scans up to A4
45 pages per minute
Colour, greyscale, black and white
Duplex (scans both sides)
90 images per minute
75 sheet capacity
Connects via USB
TWAIN, ISIS compatible
Only £405.00 + VAT
Delivery £10.00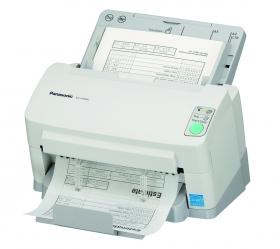 KV-S1046C videos
1. KAREN SMITH, M WAY & SON TRANSPORT LTD
Very good product!
2. Steven Naylor, Bradburys
Excellent desktop scanner for bulk scanning. I have purchased over 40 of these over the years. They integrate well with TWAIN applications. Very good a dealing with different paper weights and sizes. Consumables are cheap (You will need to replace the feed rollers every 100k documents scanned). I cant comment on the bundles software as I don't use it. But the driver preforms very well. I have used them in terminal server environments, VDI environments and with thin clients with very good results.
Write a review
KV-S1046C description
Reliable paper feed mechanism - Accurate processing of documents with various thicknesses
The paper feed rollers rotate independently left and right to reduce document skewing during scanning.
The Active D ouble-Feed P revention Roller prevents double-feeding by reversing rotation to separate documents that have stuck together,and then feeds the leading document first
Document output control
The output speed is automatically lowered for documents that are 148 mm or shorter, and the exit guides keep the document from slipping. This stops longer documents from sliding under shorter ones to prevent the output order from changing.
Advanced image processing & Improved scanning quality
The brightness and contrast of scanned images are automatically adjusted, even on documents with varying paper colours and text hues, to produce scanned images with suitable brightness.
Missing image detection and prevention
When a scanned image is missing due to an inadvertently folded corner (dog-ear) or a document that is extremely skewed, scanning is automatically and temporarily stopped. T he user can then decide to rescan, or to continue scanning as is.
Back to top