Kodak Alaris i2620

2 reviews
Scans up to A4
60 pages per minute
Colour, greyscale, black and white
Duplex (scans both sides)
120 images per minute
100 sheet capacity
Connects via USB
TWAIN, ISIS compatible
Only £555.00 + VAT
Delivery £10.00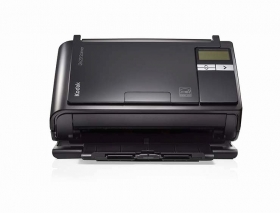 i2620 videos
1. Chris Sees, The Hoxton Mix
Excellent service and price.
2. Marc Goldsmith, Kepston Limited
A great little scanner. Fast, accurate, small, and easy to use.\r\nI bought the Kodak i2620 to replace a worn out Kodak i1320 (heavily used over 6 years). Although the specified maximum speed is the same, our experience showed that the i2620 is significantly faster at higher resolution, with almost zero paper jams. Early indications show that we will save over 2 hours per 15000 pages. With the multipage detection switched on (in Device settings in TWAIN interface) we have reduced the number of 'missing' pages too. The input feeder loaded to capacity (loose, not tightly packed) starts to feed without skidding.\r\nThe scanner folds away to a tiny footprint when not in use, but the output tray feels a little flimsy when fully opened - I caught my sleeve on it a couple of times when reaching over, but it bounced and stayed intact.
Write a review
i2620 description
So much performance in so little space
To keep your business process humming, you need a scanning solution that combines great image quality, simple operation and time-saving productivity. The latest Kodak i2000 Series Scanners offer all that in a very small yet powerful package. Check out all the ways these scanners can help you get ahead and stay there.
Impressive productivity
No need for warm-up time, so you can start scanning instantly. Then keep moving through mountains of documents.
Kodak i2620 Scanner

Input trays hold up to 100 pages
Barcode technology delivers data to applications
Software streamlines mixed jobs by recognizing colour, blank, and skewed pages
Superior image quality
Capture images with greater clarity and more consistent colour. Built-in Perfect Page technology automatically delivers clear, crisp images, which minimizes the need for rescanning or post-image processing.
No expertise required
Smart Touch technology lets you perform up to nine different tasks with the push of a button.

Create PDFs
Attach documents to e-mails
Organize documents in folders
Send to Cloud services
Space-saving design
The innovative stow-or-go design lets you store the scanner upright when not in use, taking up minimal desktop space.
Endless versatility
Handle almost any kind of document: small or large, thick or thin — and expand your possibilities by scanning bound, oversize, and fragile documents with optional legal- and tabloid-size flatbed accessories.
Back to top