HSM Securio P44 (3.9 x 40mm)
Cross cut shredder
3.9 x 40mm shred
Security level P-3
Shreds credit cards, staples/paperclips, CDs, floppy disks
41 sheet capacity (2500 per day)
4000 sheet volume (205 litres)
400mm working width
Dimensions 700 x 592 x 1025mm
Weighs 111kg
24 hours continuous running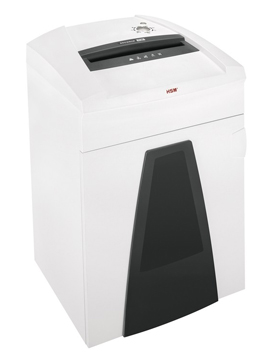 Your shredder will need oil
Keeping your shredder well lubricated is an essential part of ensuring the long, smooth running of the unit.After a period of time shredders that are not oiled will start to shred fewer sheets, be prone to jamming and may affect your manufacturers warranty.More about oiling

Fellowes Shredder Oil (350ml)
£9.99
Add to basket

Fellowes Shredder Oil (350ml) Pack of 6
£45.99
Add to basket
HSM Securio P44 (3.9 x 40mm) videos
HSM Securio P44 (3.9 x 40mm) description
The top document shredder of the HSM SECURIO line. This powerhouse with 205 litres of collection volume reliably processes large amounts of paper and is therefore optimal as a department document shredder.
High quality materials and "Made in Germany" quality for safety and durability. With 3 years warranty.
Cutting rollers made of hardened solid steel with lifetime warranty.
Integrated automatic oiler provides for consistently high cutting capacity.
Separate CD cutting unit (4 x 7 mm) with waste container for sorted disposal.
PAPERcontrol for paper thickness measurement signals whether a stack of papers can be destroyed in a single work process.
Powerful motor allows for continuous operation.
Energy-saving management system EMCS: 90 per cent energy savings thanks to the sleep mode and automatic shutdown.
Paper feed with overload protection reduces paper jams.
The device automatically switches off if pressure is applied to the safety element.
Multifunction element for intuitive operation.
Light barrier for automatic start/stop.
Mobile on castors.
Convenient removal and emptying of the removable reusable collecting bag.
Button lock prevents accidental use.
High quality wooden floor cabinet with door.
Dust emission tested by independent institute: Use directly at the workplace is harmless.
Level indicator through inspection window. Back to top