ScanSnap S1500 Deluxe description
Easily Transform Paper with the Touch of a Button
Organizing with the ScanSnap S1500 happens at the touch of a single button. All this intelligent technology working behind the scenes ensures your PDF or JPEG files look their best automatically.
Intelligent Speed
There's speed and then there's speed with quality. The ScanSnap S1500 has been engineered to deliver even faster performance with up to 20 pages per minute in color, grayscale, or black & white; however, S1500 remains just as fast when scanning at a higher resolution of 200 and even 300 dpi color or grayscale.
Intelligent Ease of Use
ScanSnap S1500 has several automatic features to help ensure scans look their best without operator intervention before or after they scan.
Auto Color, Black & White and now, Grayscale detection Auto Page Size Detection Auto Crop and De-skew Auto Content-based Rotation Auto Quality: ScanSnap S1500 can now be set to detect small documents intermixed in a stack placed into the automatic document feeder and automatically increase their resolution to help ensure that the finer-print typically associated with smaller documents (such as receipts and business cards that are shorter than A6) are made more discernable.
Intelligent Paper Feed Detection
ScanSnap S1500 is now equipped with an ultrasonic multi-feed detection sensor that can be turned on to help operators avoid losing images. What's more, an interactive interface allows users to easily and quickly bypass intentional double-feeds such as a taped-receipt on an expense report.
Intelligent Software
Quick Menu:
Operators can create their own profiles or quickly access all the powerful features of ScanSnap from the centralized Quick Menu. Just scan and choose a function to quickly transition from one scanning intention to the next.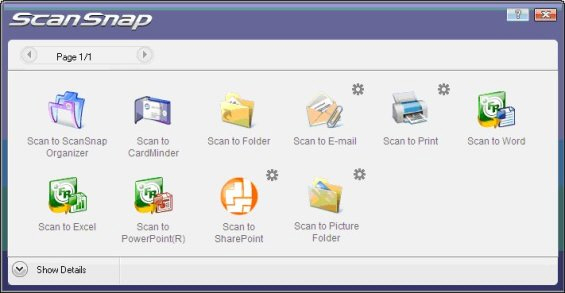 ScanSnap Organizer 4.0:
View, manage, and edit PDF and JPEG files scanned with ScanSnap on a windows platform. Organizer allows users to convert scanned PDF files into searchable content, embed custom keywords, distribute to email or SharePoint, and remain productive with paperwork long after it is scanned.
Adobe® Acrobat® 9 Standard:
ScanSnap users can move beyond merely "seeing" and "printing" PDF documents to searching and editing them however they like and Adobe® Acrobat® 9 Standard supports password protection and digital ID creation, ideal for safeguarding personal and confidential information on PDF files.
ABBYY FineReader for ScanSnap 4.0 PC Edition:
Windows users can now achieve even greater productivity by converting paperwork into editable text by scanning directly into Microsoft® Word and Excel at the touch of a button.
CardMinder 4.0:
ScanSnap S1500 quickly scans loads of business cards, extracts the contact information, and places it into editable fields that can be exported to Excel, Outlook, and other contact managers.
Rack2Filer v5.0

Scan PDF and JPG files directly into binders
Drag binders from one cabinet to another
Apply pictures to make binders distinctive
Flip through pages or jump to a section
Create divider sheets for organizing content
Use the highlighter tool with color palette
Attach digital sticky notes to pages
Import word documents, presentations and spreadsheets
OCR to search by keyword or phrase
Manipulate content on the virtual Work Area
Use magnification tool to see finer details
Select ImageWriter to print content into binder
About Rack2-Filer
Rack2-Filer is a feature-rich scanning and digital data archiving application incorporating an ultra-intuitive user interface that gives users the benefits of what they love best about the paper world while harnessing the power and sophistication they depend upon within the electronic realm. With Rack2-Filer and your Fujitsu scanner, you can easily scan, print, edit, distribute and organize your digitized documents.
Rack2-Filer features:
Rack2-Filer scanning software provides several tools to keep your content organized, presentable, and accessible.
Rack2-Filer's Library, Cabinet and Binder Archiving Methodology
Rack2-Filer is capable of digitally archiving the equivalent of 2,520,000 digital pages in up to 2,520 binders. (A maximum of 1,000 pages can be entered into each e-binder)
21 e-binders per shelf
20 cabinets per library
6 libraries per link
Easy to understand and operate
Rack2-Filer creates a life-like experience with digital content through the use of virtual cabinets and e-binders. While flipping through pages, users can add highlights, divider sheets, and sticky notes to enhance the organizational value of their archive.
Searching for information made simple
With Rack2-Filer's built-in Optical Character Recognition (OCR) engine, content can be made searchable by word, phrase or number. Even the "sticky notes" and "binder titles" can be searched.
Reduce paper clutter and save time
Rack2-Filer enables users to scan and store digital data in a very efficient way, providing several powerful tools and time-saving features to keep your content highly accessible, exceptionally organized, and working hard for you. Paper just can't compete.
Back to top