Brother ADS-2800W

1 reviews
Scans up to A4
40 pages per minute
Colour, greyscale, black and white
Duplex (scans both sides)
60 images per minute
50 sheet capacity
Connects via USB
TWAIN compatible
Only £319.00 + VAT
Delivery £10.00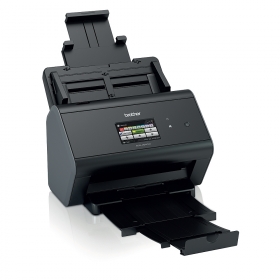 ADS-2800W videos
1. Chris Evans, PSYCTC.org
Arrived promptly. Not a pretty object, the picture against this review and all others I've seen convey that fairly and accurately. That's largely because of the slide in extensions to the paper bin and exit trays and it's good they do slide in and fairly easily. It was easy to set up and, at least so far with about a week of mixed though not very intensive use, seems excellent as a network scanner accessed over wifi from a Windoze10 machine. I would recommend it.
Write a review
ADS-2800W description
The Brother ADS-2800W offers true wireless connectivity so there is no need to log on to a central PC or install software at multiple location points. Share information across teams and departments with minimum user involvement.
Featuring fast, high quality 2-Sided scanning, the ADS-2800W offers improved performance and image processing with Kofax compatibility. Enhanced scan features include scan directly to your smartphone or tablet with the iPrint&Scan app (available on Apple & Android) and Outline and scan will only scan areas outlined in red pen. Scan to USB flash memory drives, cloud scanning allows documents to be scanned directly to cloud based programmes such as Evernote, Dropbox and Google Drive. Also scan to E-mails along with OCR scanning direct to Microsoft Word, Excel & PowerPoint.
Kofax gives improved accuracy for Optical Character Recognition (OCR), lowering document preparation time and improving scanned image content. Ideal for scanning invoices, statements and paperwork direct to PDF and other file formats.
Back to top